It is hard to say which cooker is better: halogen or induction as both of them have their benefits and drawbacks. Considering the factors like the type of cooking, safety, efficiency and ease of use you can decide for yourselves which one is better for cooking.
However, halogen cookers appear to have more advanced features than traditional induction cookers, they offer a lot more benefits:
-They are easy to operate and can be used for baking, roasting, defrosting and steaming, the temperature inside is controlled by a thermostat, due to it food is never overcooked or burnt.
-Food is cooked 3 times faster than in induction cookers, consuming less energy. The halogen cookers cook certain foods very well indeed, keeping them moist and maintaining taste and texture.
-Halogen cookers are very economical you don't need to add much oil when you cook different dishes. Halogen cookers are designed to be a speedy and hassle-free accompaniment to traditional cookers. They have a digital interface with pre-set cooking modes.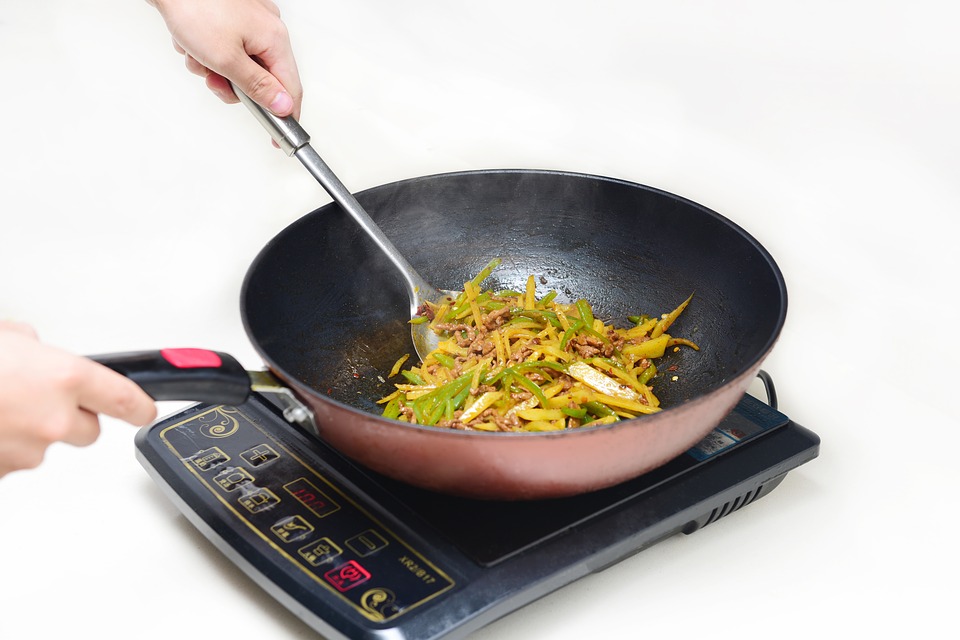 The halogen cookers let you cook a whole range of foods, from roasts to rice and chips to cakes. The hinged lid makes it easy for you to get food in and out when the oven is still hot without having to hold the hot lid.
-This is a very convenient cooker as you can use any type of cookware, pots and pans on it, including   glassware and metal cookware. Heat is evenly distributed throughout the circle on the stove-top, and is transferred to the pot by contact. While with induction cookers you need special cookware.
Halogen cookers are portable and ideal for small kitchens, they can be fitted on the countertop with no need for major alterations in the kitchen, you just need to plug the cooker into any handy power outlet. Halogen cookers don't generate heat and keep the kitchen cooler. A halogen cooker consists of a glass bowl with a lid on top that contains a high powered fan and halogen bulb.  The heat comes from above and is circulated by a fan.
-Technically halogen cookers are self-cleaning. You only need to fill the units with water and washing liquid and not set the temperature too high.
The negative sides of induction cookers are: some limitation on cookware, especially if you are trying to use non-stick pans or do not want to use heavy cast iron cookware. Besides, you need to be very careful while cooking in Induction cookers otherwise the food may burn, especially while frying.
In Induction cookers the food particles are directly heated, not the pot and hence this is the most energy efficient cooking method but it is necessary to cook only in steel or iron utensils with flat surface. All induction pots are made of stainless steel and are magnetic to a certain degree.
Using an induction stove, pots usually heat up evenly and quickly because the entire base of the pot is heated up at the same time, but they are generally more expensive than regular pots. The inadequate power supply can stop cooking and this is another drawback of induction cookers.
So we can say that halogen cookers are better than induction ones. Everything in halogen cookers is designed for our convenience.
[Total: 123 Average: 2.7/5]